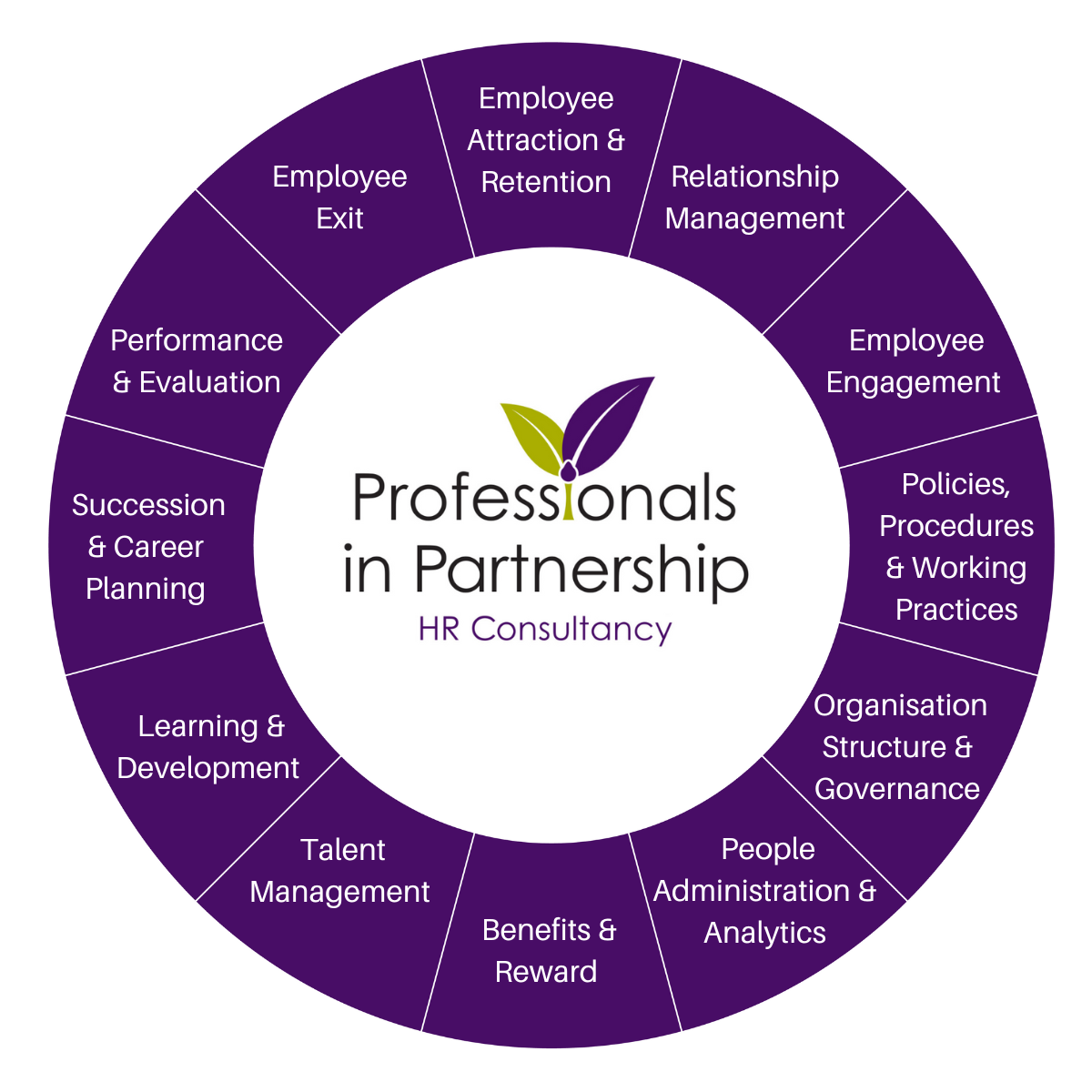 Professionals in Partnership HR Consultancy
Professionals in Partnership offers both strategic and operational HR services including, but not limited to the following:
Operating model design and development
Employee experience
Employee relations
Talent management
Resourcing
Diversity and inclusion
Culture
Reward
People analytics
HR Information Systems
Change and transformation
Our Vision
Our vision is to give business leaders access to high quality HR consultancy which is focused on humanising the employment relationship and enhancing productivity for the benefit of everyone. We do this by supporting the accountability of employing people through agile strategy development, employment law compliance, positive culture, inclusive leadership, capability development, efficient systems and processes.
Our Values
| | |
| --- | --- |
| Integrity | Always doing the right thing, however difficult that might be. |
| Accountability | Taking ownership when outcomes are positive and learn from the experience when things go wrong. |
| Inclusive | Every person is part of the team, treated with respect and is integral to the success of the business. |
| Enthusiastic | Every person delivers to the best of their ability every day. |
| Respect | Being open-minded and respectful in all our interactions with others. |
| Collaboration | Appreciate the value of collaboration in the team, with our clients and our trusted partners. |
Karen Ferris, Director, is professionally qualified as a Fellow of the Chartered Institute of Personnel and Development and set up the Consultancy in 2016. The Professionals in Partnership Team includes a qualified HR Adviser, HR Systems and Operations Specialist and several trusted Associates providing executive and performance coaching, business process excellence and business support.
Professionals in Partnership has public liability insurance, professional indemnity and works within the CIPD's code of professional conduct.
Professionals in Partnership Registered Office is Suite B, The Courtyard, High Street, Hungerford, RG17 0NF. Professionals in Partnership Limited, trading as Professionals in Partnership, is Registered in England & Wales - Number 10004126.
Address
Suite B
24 The Courtyard
High Street
Hungerford
West Berkshire
RG17 0NF
United Kingdom