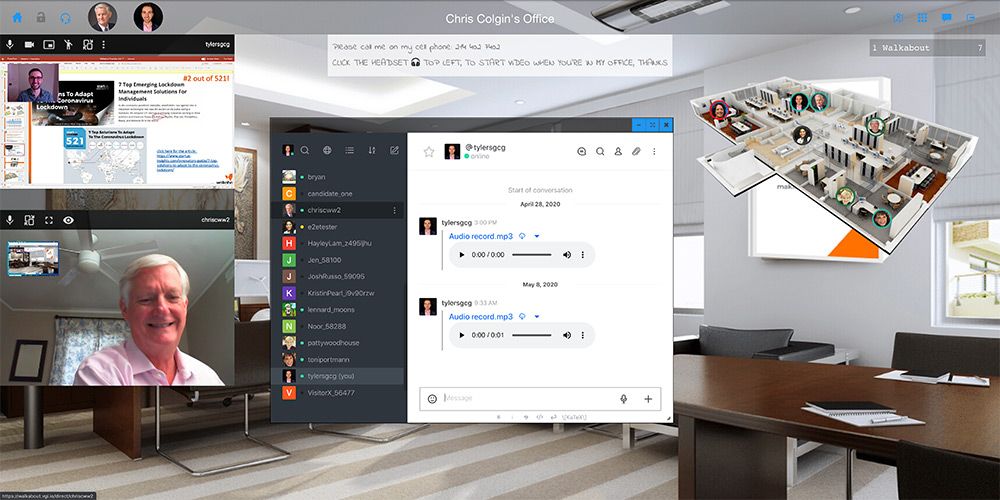 NexGen Virtual Office is a remote employee management tool that allows for greater accountability and employee visibility, reinstating corporate balance and hierarchy. Our Virtual Office environment creates a place and presence for employees bringing back the familiarity of brick-and-mortar offices.
NexGen Virtual Office (NVO) is a SaaS virtual real estate (digital office) platform, connecting employees to their companies that makes them feel that they are "really there". NVO is a multi-dimensional, online platform that unifies various communication tools by providing users with the ability to integrate their existing technology tools and cloud applications in the Company's virtual, custom-designed "office space and classrooms".
NVO creates a "place" where individuals and teams can work together even if they are distributed or remote. A unique "heads up display" provides visibility to individuals, teams, and work; letting you "see" rea-ltime who is in the office. Users spontaneously connect through high quality video, voice, chat, and screen sharing, and can teleport from office to office, classroom to auditorium, boardroom to team room, and even to a cafe or break room.
With many companies implementing work from home programs due to the pandemic, many employees have found that working from home is more conducive for their lifestyle and more productive for their work. Many will not come back to a traditional office and will resign if forced to do so. By creating a virtual office, NVO places employees in a professional setting and allows them to attend meetings and collaborate with fellow employees easily.
Address
NEXGEN VIRTUAL OFFICE
2234 N Federal Hwy
# 1034
Boca Raton
FL
33431
United States
News
All-In-One Virtual Workplace Solution NexGen Virtual Office is a revolutionary digital office focused on creating PLACE and PRESENCE, making togetherness possible even when you're apart.