02 Aug 2021
Moonalabs Garden Offices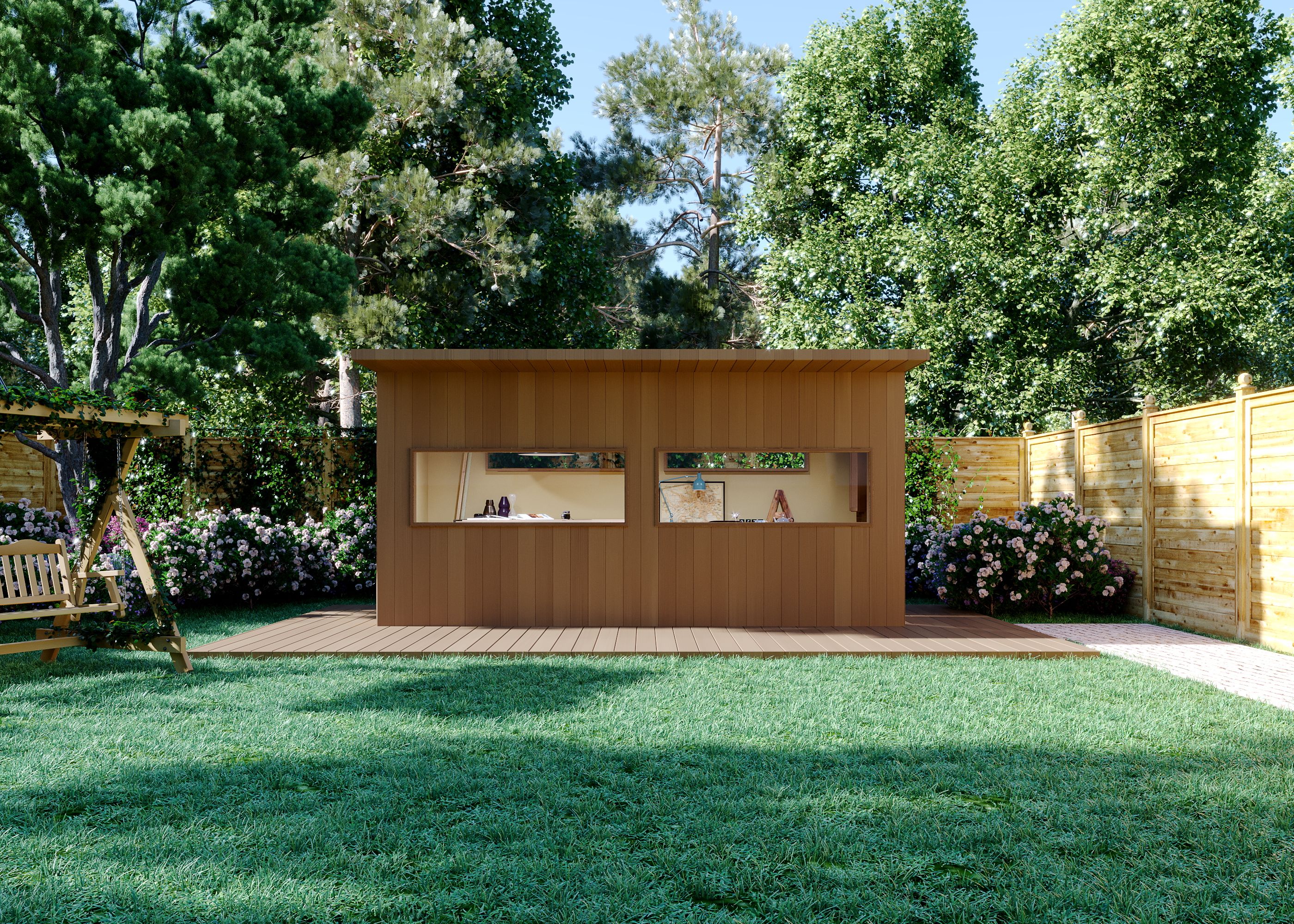 The team at Moonalabs have recently launched a range of hardwood garden offices. The Moonalabs range stands out from the mass of Cedar clad cubes on the market, as they have chosen Teak for the exterior cladding of their buildings. You might think that the use of hardwood will make the Moonalabs range expensive, but far from it, prices start at £9,999, including VAT for a 3m x 2.5m building.
Durable Teak Cladding
Teak cladding is not only beautiful, but it is also dimensionally stable, resistant to rot and fungal attack, and has a long maintenance-free lifespan.
Teak has been the material of choice for garden furniture designers for years because of its high oil and rubber content, which helps it repel moisture. These qualities make it a good choice for garden office cladding.
The tongue & groove Teak boards have been fully seasoned and are coated with linseed oil which adds a lovely lustre and helps repel moisture further.
The Moonalabs team ensure that all of the Teak they use comes from responsibly managed FSC certified forests. For each tree that is cut down, more than one is planted
Stylish Garden Office Design
The Moonalabs garden office design is stylishly simple in its appearance. We like the solidity of the Teak cladding, with the large picture window on the front elevation.
There is an opening window on each side wall and a Teak clad door fitted with a Yale double-cylinder mortise lock.
Inside, you have a choice of real wood veneer for the walls. This is a lovely alternative to the plain white interiors, so commonly offered in garden office design.
Moonalabs Come In Different Sizes
The Moonalabs range come in sizes from a comfortable 3m x 2.5m up to a large 6m x 2.5m. The Moonalabs team tell us that the size of their offices is customizable for the customer's needs.
Modular Design For Quick Installation
Moonalabs prefabricate their offices in their workshops; this means the modular panels are constructed in optimum conditions. The modules are then delivered to the site for quick installation. With this system, on-site build times are typically just a day.
Moonalabs garden offices are designed for comfortable year-round use with a multi-layer build-up that includes a steel frame, marine plywood and 100mm of Glasswool insulation.
Moonalabs are fully wired electrically. The specification includes 8 LED lights encased in solid Teak. There are two power sockets and two USB charging points. There is also an ethernet port for an internet connection.
Moonalabs are available throughout the UK
The Moonalabs range is available for installation throughout the UK. Lead times are typically 8 to 10 weeks from confirmation of order. The range comes with a 10-year warranty for peace of mind.
To learn more about Moonalabs garden offices, visit their website or give the team a call on 0204 509 1150 or send them an email: hello@moonalabs.com