01 Mar 2021
Global Strategic Partner of NTT DATA Services, for Professional Services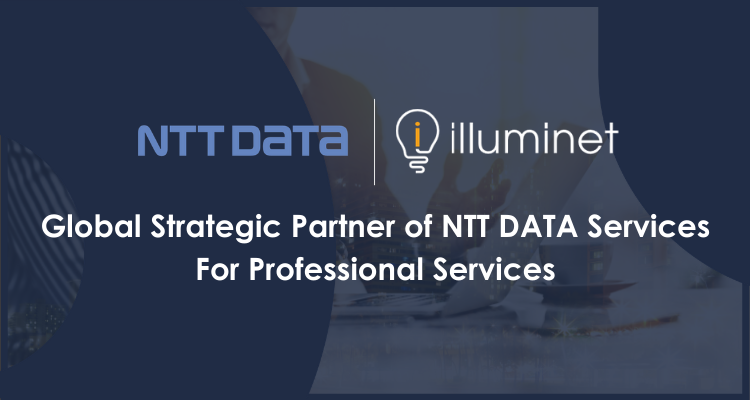 Illuminet is delighted to announce that it is now a Global Strategic Partner of NTT DATA Services, for Managed Professional Services. NTT DATA Services, a global digital business and IT services leader, is the largest business unit outside Japan of NTT DATA Corporation and part of NTT Group. With a consultative approach, they leverage deep industry expertise and leading-edge technologies powered by AI, automation and cloud to create practical and scalable solutions that contribute to society and help clients worldwide accelerate their digital journeys.
Through this collaboration, NTT DATA Services has gained Illuminet's global expertise and delivery capability in solutioning and implementing complex transition and transformational projects and programs in client environments, including Mergers & Acquisitions, Service Transition, Technology Transformation and Automation. This announcement follows 5 years of Illuminet supporting NTT DATA Services across multiple key client accounts globally, including delivering the End User Computing transformation as part of a client's $100 billion Merger.
"We have built a strong relationship with NTT DATA Services and we are proud that all our hard work and support has been recognized, with this Strategic Partnership. We look forward to helping NTT DATA Services evolve and thrive as it adapts to meeting client needs in the future", John Opsblum, CCO, Illuminet.
"Illuminet consistently adds value to the services that NTT DATA delivers to our key global clients. They bring agility, scalability, and broad expertise in the delivery of complex, highly technical programs. The success of the partnership is the reason that Illuminet has a strategic role in our organization.", John Webbon, VP, Dynamic Workplace Services, NTT DATA Services.
https://illuminet.co/global-strategic-partner/