31 Oct 2022
Edworking – The UK Startup Competing with MS Teams and Click Up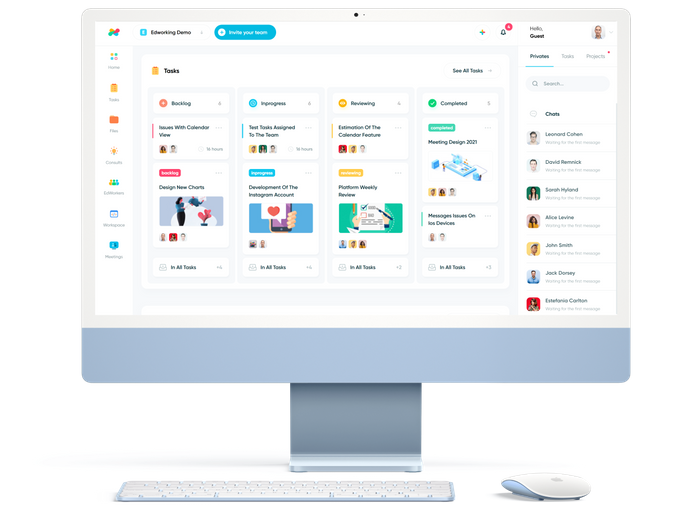 All of us know that after the covid-19 pandemic, it has almost become a norm to work from home or even study from home. In this case, the most important thing that most of us might often find missing is that one platform that can take care of it all and ensure that professionals do not have to go through a hard time.
Today the number of options that we have been provided with is really less, and not all of them are always compatible with the method of our working. In this case, it becomes very important to keep in mind that there are great alternatives, but all we need to do is make sure that we have an open mind and want to incorporate the system.
WHAT IS EDWORKING?
The first thing that we need to know in this respect is what Edworking is all about and exactly why you should even consider this option when there are other established choices like MS Teams and similar others. Edworking is a one-stop solution for all those looking for an interactive platform that can allow them to work very easily and without any added hassles. The idea is always to make sure that work or studying from home should not have any potent problems, and Edworking makes this easier for you. As a platform, it is certainly one-of-a-kind option that has made online-based work easier and much more swift work.
It is quite a given that when it comes to remote-based work, there are usually a lot of requirements for every employee and the employers. Edworking allows them to have this option and that too in the most promising way without any extravagant process. Usually, the editing options are present, and this will make the working remotely process seemingly easier. Not only can you choose to work on this platform, but the best thing is that you can even very well choose to communicate and create one on one and group meetings.
Usually, the option for video and audio chat is present, which makes the process much easier. It would not be wrong to say that Edworking is the newest and the best option for those looking for a great remote working option, but that is too free! Yes, you read it just right. Edworking is currently a free platform, and hence you don't even have to pay a single penny to start using this platform.
FEATURES OF THE EDWORKING PLATFORM
The Edworking Platform is one of a kind, and it has some amazing features that make usage much easier as well as convenient. Furthermore, there is one or the other option for each of your requirements which makes the platform one of the best currently in the domain of remote management.
1. TASK AND TEAM MANAGEMENT
One of the major things where we lag behind in the domain of remote working platforms is that it often becomes very haphazard, and we do not tend to find many files. However, the task and team management option has made it much easier for us to maintain parity and even access the documents whenever required. The team management option is again very important for those who have a big team under them, and it becomes difficult to stay updated. Both the task and team management option has made it much easier when it comes to remote working and is certainly very important.
2. TOOLS FOR COLLABORATION
When it comes to remote working, the option for collaboration is very important, and hence this option has been enabled for the better accessibility of the workers. The tools for collaboration have made it possible for workers to work together and that too in projects which might be of uber importance. This application works similar like Instagram but it has the additional features like screen sharing. You can also use Edworking on the go with our mobile application, available for Android and iOS.
3. VIDEO CONFERENCING
There is a big problem with remote working: the absence of meeting each other and seeing them face to face. Of course, there are options for video chats in informal settings; however, that is certainly not desirable for office space. Hence the video conferencing option is very important for remote workers who want to see each other and maintain the atmosphere of offices even at home. Therefore, the video conferencing option has been added not only for one-on-one users but there is also an option for group video conferencing. Sounds convenient, right?
4. Chat or Message
Lastly, it is also very important to understand that for employees to get the work done properly, or even for the employers to communicate what they want, it is very important to have the chat or message option. It is very convenient, and it ensures that you are able to communicate with the help of messages. The chat and the message option are convenient, and you can use them like any other instant messaging application. However, here it is inbuilt and once you type out the message, tap on the enter button for everyone to see the messages.
EDWORKING AWARDS
Based on the user experience, this newly introduced interactive platform has already been awarded two prestigious awards – The Quality Choice Award and the Happiest User Awards. Moreover, it currently scores 69/100 in the category of Internal Communications.
CONCLUSION
Edworking is your one-stop solution for all those who want to find a great platform for working from home remotely. All you need to do is to register online in https://edworking.com/, completely free, and hence you do not need to pay anything. Furthermore, all your employees can be added to the team, and they will be able to access the amazing features.