Six Simple Ways to Improve Your Mental Health When Working From Home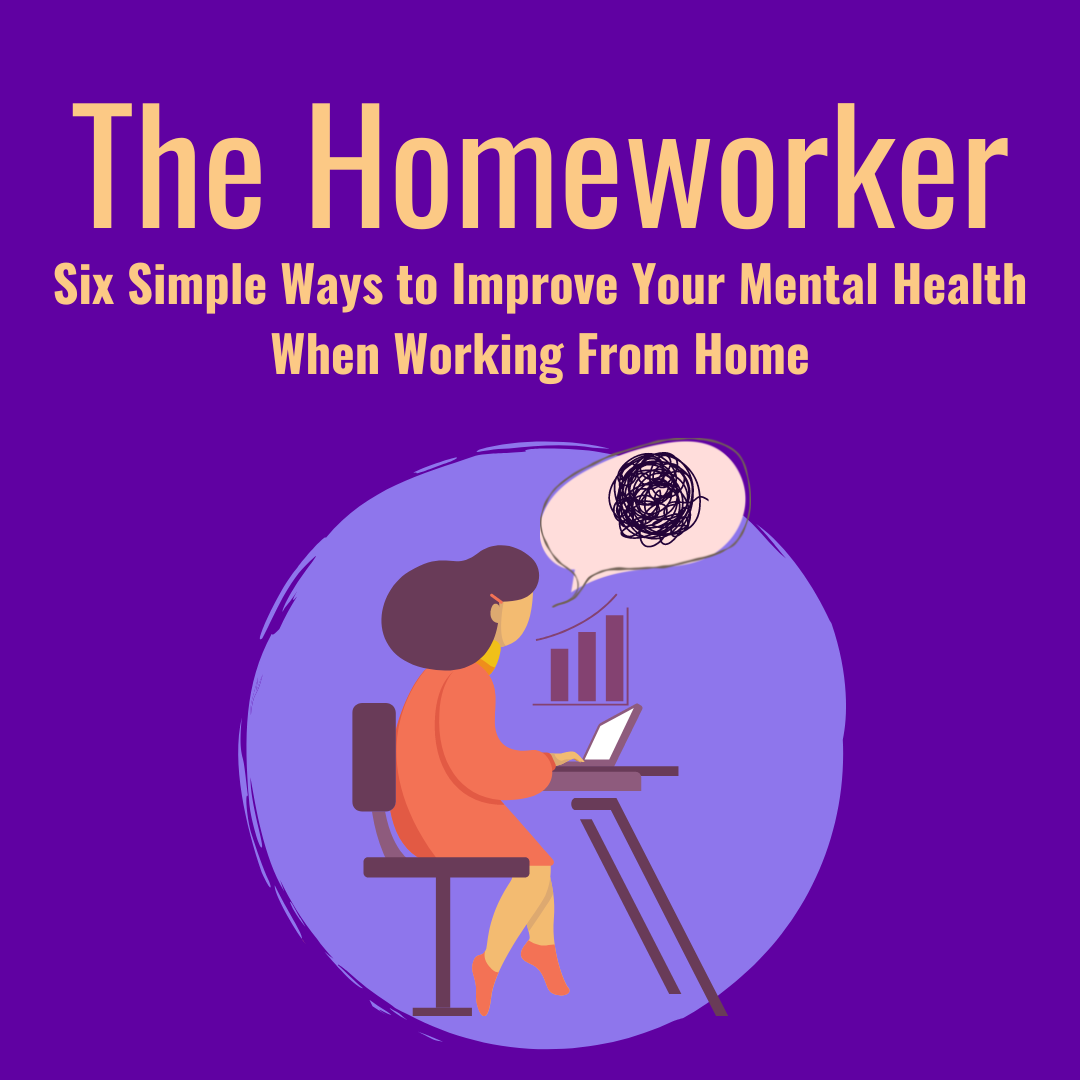 Get the foundations in place
In order to look after yourself, give yourself the best chance of success, work better, feel better and communicate well, a solid foundation is crucial.
A good trifecta is balanced nutrition, quality sleep, and regular exercise.
Eating well, sleeping well, and prioritising your fitness are important in staying healthy overall. In turn it means we can cope better with stress, fight off illnesses easier, and respond more positively to circumstances outside of our control.
When working from home, try to take proper breaks for lunch, tea and coffee, and regular screen breaks.

Switch off in the evenings to give you good downtime before bed.

Batch prep nutritious snacks that are easy to grab instead of sugar-laden ones.

Try to incorporate a walk, or morning workout in your routine. And move regularly throughout the day to avoid suffering discomfort from poor posture.
Maintain social connections
Social connections are vital to maintaining good mental health. Not only are they fun, and a good way to help you switch off from work, they provide a sense of belonging and mutual understanding. By having regular contact with people you trust, you can have a vent, talk through any issues that are bothering you, and get some fresh perspectives.
Arrange regular catch-ups, or phone calls with friends, or join a community group. When you are at work, there are ways you can recreate the 'watercooler' even when you are working from home.
Connect with nature
The benefits of connecting with nature on your mental health are well-known. It can boost your mood, help reduce stress, and elicit feelings of calm and joy. There are ways to do this even when you work remotely. In fact, it is often easier to bring nature into your day when you are homeworking
Take at least one of your breaks outside for some fresh air and a chance to destress. Even a short ten-minute breather can help.

Replace your commute with a short walk or some exercise outdoors.

Have walk-and-talk meetings outside.

Bring nature to you with houseplants in your workspace.

Have a gardening break. Get your hands in the earth and do a spot of weeding or tending in your lunch hour.
Get out of the pyjamas
Working from home often means staying in comfortable clothes, maybe even pyjamas. But imagine the difference you might feel if you decided to smarten up. Simply putting on something more formal, making an effort with your hair, putting on a bit of makeup can provide a real boost in confidence.
It isn't about feeling the need to wear makeup or look a certain way. It is about taking pride in your appearance, looking after yourself, wearing clothes that make you feel special and professional, and putting in that extra effort that means you feel confident and even more empowered.
Be proactive
Always keep your goals in mind. Have something to work towards that helps give you that renewed motivation and sense of purpose. It can prevent you drifting day to day, coasting with no focus that can chip away at your enthusiasm and enjoyment of day to day life.
Look at your schedule and make sure you are blocking out time to work on things which matter to you and help you make progress on your goals.
You need to be proactive in making this happen so you don't fall into the trap of having your day dictated by other people's agendas.
Schedule time for self-development
Make sure you are managing your schedule effectively so there is time for higher-level strategic work that moves you forward in your business or career. This is time for you to work on yourself and business and helps you feel in control and moving forwards.
If you feel you are constantly in back to back meetings or always working in your business rather than on it, you may start to feel resentful, stressed, and as if you never have time for yourself or other important work.
Whether or not you are self-employed, this can involve taking courses, having coaching or mentoring, reading relevant books and articles, and doing research.
By Louise Goss, founder of The Homeworker magazine. The Homeworker is the only publication dedicated to helping people thrive when they work remotely or from home. Packed with insightful and relevant articles and interviews for your mind, body, and business:
www.thehomeworker.com