15 Sep 2022
Remote jobs in 2022 that don't require experience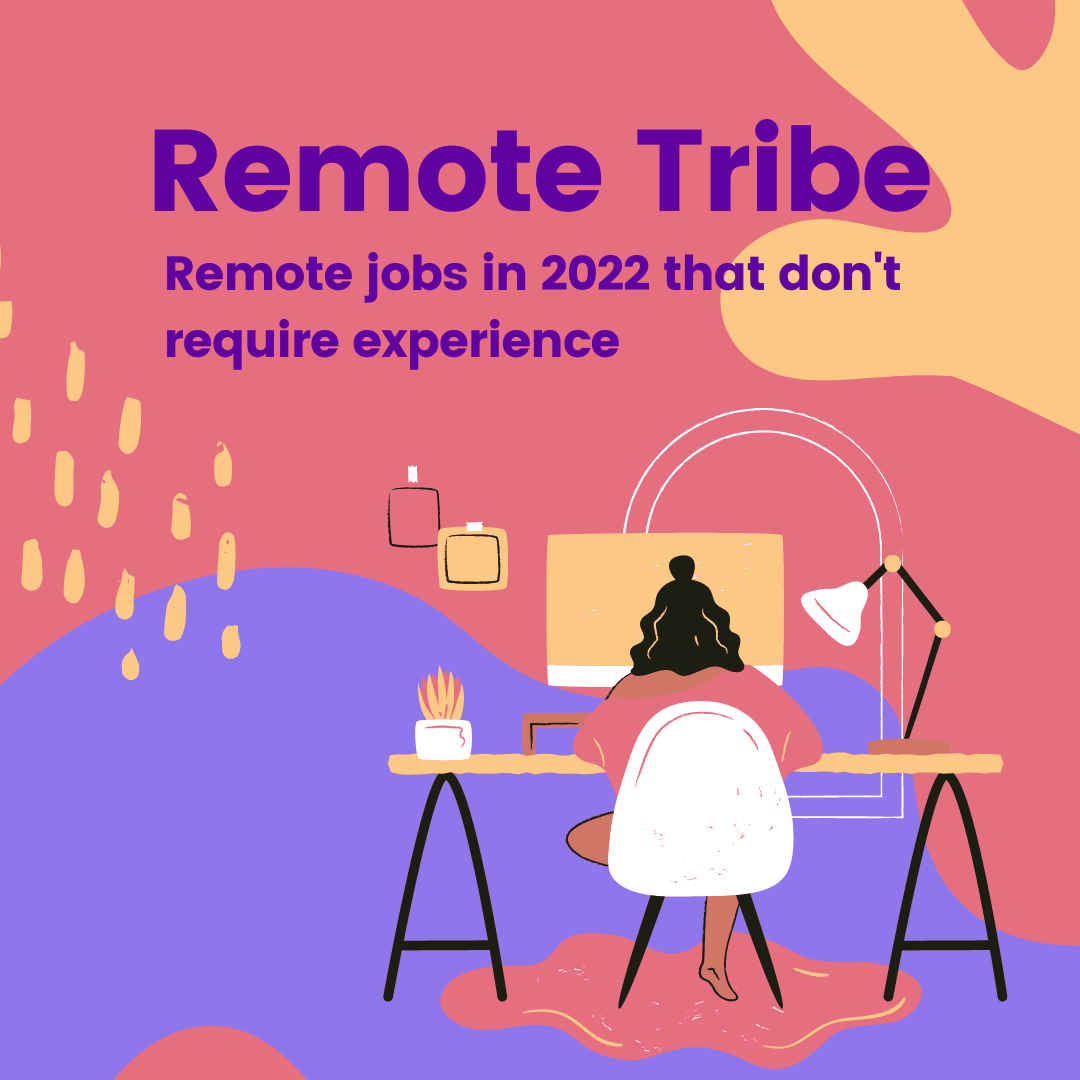 2021 was a year of struggle and massive change. The COVID-19 pandemic came fast and strong, completely changing our lives, maybe forever.
One of the most significant changes caused by the pandemic (which was bound to happen anyway) was the explosion of the working from home or work from anywhere lifestyle. But the pandemic wasn't the only factor contributing to this. Technology has advanced a lot lately with video conferencing tools and other collaboration tools improving massively in the past few years.
In 2021 with the trend continuing as well in 2022, remote jobs are now more popular than ever.
There are many positions advertised as remote already where you are not required to have any experience, so it's the perfect time to start looking for a remote
In fact, according to a study by FlexJobs, by 2022 over 43% of U.S. workers will be working at least some of the time remotely. If you're looking for a remote job that doesn't require experience, here are some options that may be a good fit for you.
Examples of remote jobs in 2022 that don't require experience include customer service, social media management, and blog writing. So if you're looking for a change in your career or want to start working remotely, now is a great time to explore your options!
Check out some of the 5 best in terms of pay and rates of success below!
Here are the top five remote jobs in 2022 that don't require experience
1. Customer service
A Customer Service Specialist is a professional who is responsible for handling questions, comments and complaints regarding a particular business. Their ultimate goal is to provide positive customer experiences by enhancing relationships between them.
To become a customer success specialist, you'll need to be able to communicate effectively with clients and resolve their queries quickly. You should also have experience using help desk software like Zendesk or Google Support because that is what we use here at the company!
Some of the ideal skills you'll need to get this beginner's remote job experience with help desk software or at least an understanding of how a CRM software tool works. The way you communicate is probably the most important skill you'll need because you'll deal with a lot of customers over chat and phone and you'll need to be patient and polite. Also, be prepared to multi-task because you might be chatting online with a few clients at a time and you'll have to solve multiple cases at once.
The average base pay is around £26,000 per year in the United Kingdom, but remember most of the sales roles have really good commission schemes
In most cases, a Bachelor's degree is preferred but in a lot of cases that is not an issue.

2. Sales
A Sales Representative is a professional who initialises and manages relationships with customers. They serve as their point of contact and lead from initial outreach through the making of the final purchase by them or someone in their household.
The person in charge of selling products and meeting customer needs is called a Sales Representative. They ensure that the customer has been satisfied, by making sure they are adequately taken care of while purchasing products or services from you!
If their order goes smoothly then it's possible for this individual to establish new accounts with your employer which would be very beneficial over time since more people may buy what he/she sells due to him being such an effective salesperson.
Usually, the employer is looking for a candidate with excellent knowledge of MS Office and Familiarity with BRM. CRM practices along with the ability to build productive business professional relationships.
Of course, the individual should be highly active, motivated and target-driven. Excellent communication skills and the ability to create and deliver presentations tailored to the audience's needs are essential.
The average base pay is around £34,300 per year in the United Kingdom, but remember that most sales roles have really good commission schemes.

3. Graphic designer
Graphic designers are responsible for using their artistic abilities to help communicate ideas visually. They do this through the use of colours, text, images and symbols in order to make communications more easily understandable by all audiences- from clients/customers who need assistance with design processes all throughout an organisation's employees. In addition to basic design work, a graphic designer should know how to use multiple design software such as Photoshop and be familiar with layouts and visual fundamentals. Standard fields in that graphic designers excel in our advertising, digital design, illustration, and branding.
The employers won't be interested so much in your Bachelor's or Master's Degree but they will want you to have some experience in programs like Canva, Adobe Suite, Indesign and Illustrator. Attention to detail is a thing that matters a lot because your design will have to be at high standards.
Communication is on the list here as well, because you'll have to understand what the client needs and you'll have to present your ideas,
As a PRO tip, you should set up a small (fictional) portfolio that you can show during your interview. This will highly increase the chances of getting your first remote job.
Some designer roles will require familiarity with HTML and CSS so it might be worth you looking up what they are and how they work.
The estimated average salary of £27,700 per year.
4. Freelance writing and editing jobs
An Editor is a professional who is the voice of a company, ensuring that all written materials are accurate and of high quality. They work with writers to improve their content to make sure it flows well while also educating them about best practices for writing well in general.
Most of the roles are now digital, so you will be editing and writing for blogs, websites and other online businesses. As an editor, you will most likely work with the client or company's content management system and edit the articles, add pictures and banners and so on.
The job also entails identifying ways you can improve your document's flow and advising clients regarding changes needed within specific pieces, so everything comes together seamlessly at publication time.
Of course, the job will require strong writing/editing/proofreading skills and hands-on experience with MS Office and InDesign, Photoshop or other publishing tools
SEO is a relatively new requirement in the industry and you should definitely understand how to write so search engines find your piece online. Have you ever summarised your content into one tweet of 150 characters? Well, you'd better be ready.
Excellent written skills in English is a must and you should also be able to multi-task because you might be writing about 3 or more different topics on the same day or maybe at the same time.
A BS degree in Journalism or in a related field is ideal and will increase your chances of getting your first remote job

5. Virtual Assistant
As a Virtual Assistant, you will perform various administrative tasks, including answering emails, scheduling meetings and making travel arrangements. For this role, a strong Internet connection is required, along with experience using communication tools like Skype, Teams and Zoom.
Ultimately, Virtual Assistants can have a variety of roles, from Social Media assistants to editors, Graphic Designers and so on. The term Virtual Assistant is very wide now and it's not seen only as a secretary, but more of a semi or highly-skilled person who is working part-time.
The national average salary for a Virtual Assistant is £24,789 in the United Kingdom, but of course, the more experience you have and the more qualified the job is, the higher the pay you will receive.
Where to find remote working jobs without experience in 2022
The market for remote jobs has exploded during and after the pandemic and it's growing every day. There are plenty of options for you to find a remote job, either on general websites like Jobflex or Remoteok. Below you will find a list of the most popular remote jobs on the internet, including for beginners:
The anxiety of not solving the tasks
There's one thing to be in the office and ask colleagues about things you don't know as soon as you have an issue and another something to approach them on skype. It can be awkward in the beginning as they can be on calls and you would be interrupting them. Anyway, keep in mind that the communication done remotely works a bit different than in the office.
Emails and instant messages are key.
Increased isolation and distractions
Unfortunately, there is a lot of solitary time when you will be working from home so you have to get used to it. Working remotely differs from the office, so you will have to lean much more on your proximity network, friends and family….or create new networks whilst offline!
Distractions are another thing you have to manage. Whether that's your pet, kids or husband…or the tv, you want to make sure you stay productive in your home office. So find a way to minimize them every day.
Building a good, productive and ergonomic home office can be costly. It can vary between £800 and even £5000 depending on the chair, desk quality and so on. You want to pay attention to this and factor them in your costs. Some companies have a "work from home" budget so ask your manager or look it up in the HR policy. You might save a few bucks.
Doing online mentorship is challenging because body language matters a lot as well as the tone of voice and other in-person details. This is not available when you are talking on the camera with your mentor. Even though it's possible, it reduces a lot some of the messages from the guiding person. Try to meet that person from time to time in person, you'll get more out of the meetings and grow more as a person.