15 Oct 2021
How to ensure employees well-being when they are remote-working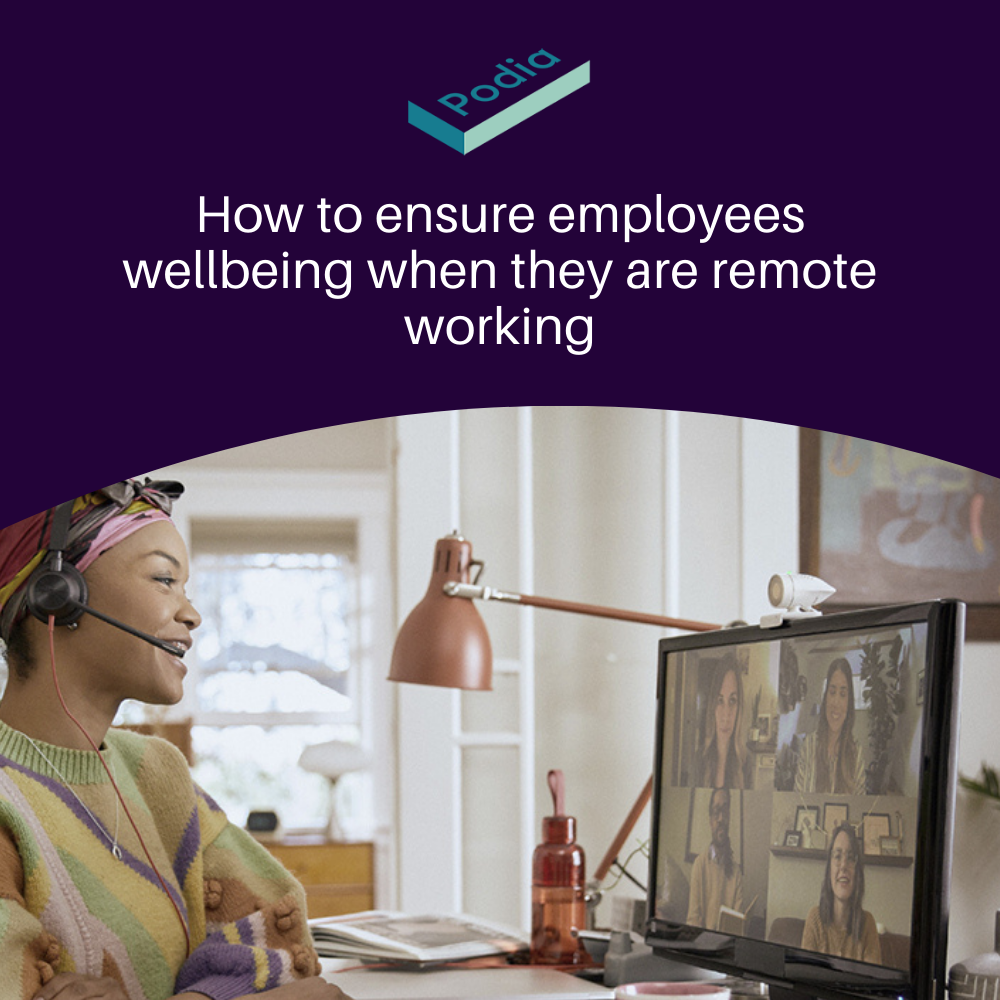 Now that remote working has become a part of normal business practice for many, companies have increased responsibilities when it comes to looking after employees' overall wellbeing. At Podia, this very consideration is encompassed within our workspaces-as-a-service. Yes, you need to provide your teams with premium technology and ergonomic furniture in order for them to be able to work productively when away from the office. But the way that these enhance your team's wellbeing far extends just the physical product.
Physical Health
Since the start of the pandemic, a survey by the Royal Society for Public Health has found that 39% of employees have developed musculoskeletal problems and 46% take less exercise throughout the day. Declining physical health not only has an impact on your team's ability to work efficiently, but it could also cost you money in the form of absence days and replacing of unsuitable equipment.
To ensure your teams are not suffering from home workspace related injuries, we recommend that:
You choose ergonomic furniture
All seating should be back-support and height adjustable to allow the perfect seated position to be achieved. Posture has a direct impact on work outputs, so there should also be a professional installation process that helps team members find their ideal position. We also recommend sit-stand desks as they mean employees can make the most of whatever space they have, no matter how small. Standing whilst working has positive effects on circulation, concentration, skeletal pressure and helps the body burn calories.
Company culture reflects the importance of taking breaks and moving around
When people work from home, they may feel they have to work more hours in order to make up for not being in the office. The reality is that this can mean not moving around. Companies have a duty of care to ensure employees are not having to work beyond their paid week and that they are taking any breaks allowed within their contracted hours.
Home workspaces are installed for optimal usage
Providing assets is one thing, ensuring they are set up is what brings your workspaces to life. Technology can be transformative, and furniture can truly elevate performance but only when it is being used optimally. That is why with every workspace, we include installation, configuration, and support to ensure your teams are getting the most out of your investment.
Mental Wellbeing
It is no secret that mental health has taken a big hit because of the pandemic and associated events. With the working week sometimes exceeding over 40 hours, it is not surprising that mental wellbeing within the workplace has suffered. In fact, a study by CV library found that nearly 46.1% of professionals had considered resigning because of their job's impact on their mental health, and 60.2% said they did not feel comfortable speaking to their employer about required support.
Home workspaces should benefit employee's mental well-being by:
Decreasing stress levels thanks to the provision of premium assets and required space to successfully complete their work
When working at home for the majority of the week, it is even more vital that potentially stress-inducing situations have been omitted from your teams' schedules. Aspects such as ill-performing AV set-ups, small desks that do not offer efficient working, and even the negative impact on morale that poor-quality furniture provides all lead to your business's performance is directly affected. Providing a completed workspace-as-a-service not only ensures the physical work is done, but it also allows employees to benefit from supportive, wellbeing content and elevated assets which help them thrive within work and life.
Connecting them with the wider business – Remote doesn't have to mean removed
Digital communications are an everyday part of operations now. Home workspaces should seamlessly integrate users together, with location not being a bottleneck. As well as encouraging the use of instant messaging and increased business comms, every home workspace should be equipped with a quality, noise cancelling headset and clear camera.
Allowing them a defined space to productively work
Home workspace sizes and configurations differ. Some people may have the luxury of a complete home office, whilst others may need to incorporate their assets into a multi-use space. Spending more time in the home can have a negative mental impact and cause knock-on effects to sleep and concentration. Providing a complete set-up to all members not only allows them to feel cared about, it means that mentally, but they are also able to switch on and off from work putting an end to the risk of burnout.
Rise with Podia
As part of our workspaces-as-a-service offering, we provide access to a supportive hub of content that can be used to better performance, highlight any wellbeing issues and provide advice for team members. We believe that our workspaces truly come into their when being used by individuals who feel empowered and determined to make the most out of every day. A piece of advice that really helps somebody, may not be ideal for the next person. That is why our Rise platform lets users create their own hub of content.
The benefit to teams? Support that is needed not just for work but within wider life events.
The benefit to companies? More productive employees who are committed, physically and mentally stronger and as a result, a moral-enhancing company culture that will benefit existing and new staff.
To shop our complete bundles please visit Podia.Work/Store. If you would like any further information, please do email marketing@podia.work or give us a call on 01635 798620. We will also be exhibiting at the Working from Home Live Show on the 24th and 25th November so do come and visit us at stand C214 to find out how we can elevate your workspace's.