10 Jun 2021
How Companies Can Celebrate Pride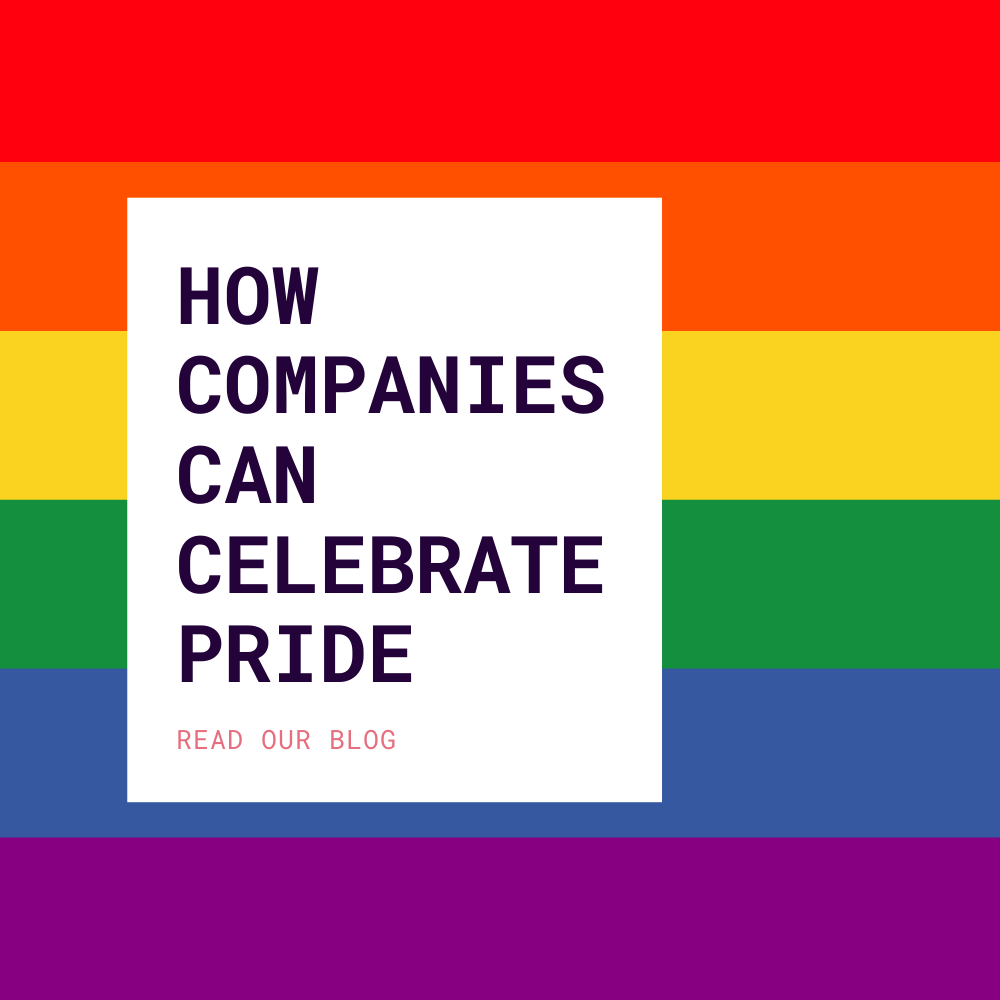 After a year when Pride celebrations had to go virtual, members of the LGBTQ+ community and their allies are eager to shine bright in 2021. Since the first lockdown most of us knew that Pride month would look and feel different. This year will be the same with some restrictions still in place, meaning that mass gatherings are unlikely to happen.
Brands need to approach Pride not as a marketing moment to sell products and profit from LGBTQ+ people, but as a time to loudly use their reach and influence to support their community. We have outlined some of the ways that companies are keeping the spirit of Pride alive in their organisations.
LEGO's Everyone is Awesome Set
LEGO launched its first LGBTQ+ themed set this month. This comes with 11 monochromatic figures, each with an assigned colour, and 346 pieces creating a rainbow castle.
Matthew Aston, LEGO' vice president for design said, "I wanted to create a model that symbolises inclusivity and celebrates everyone, no matter how they identify or who they love".
Skittles Pride Packs
Skittles have given up the rainbow to support the LGBTQ+ community. Limited edition Skittles Pride Packs feature grey packaging on the outside and all grey sweets inside. Don't worry they are still full of delicious strawberry, orange, grape, apple and lemon flavours. During the month of June, they are also donating a portion of the profit of each pack to GLAAD.
Disney's Mickey Mouse Ear Hat
The Rainbow Disney 2021 collection includes t-shirts, polos, mugs, backpacks, hats, face masks and more.
Also, in celebration of Pride Month 2021, The Walt Disney Company is donating to LGBTQ+ organisations around the world, including ARELAS in Spain, Famiglie Arcobaleno in Italy, Nijiiro Diversity in Japan and, GLSEN in the U.S.
Ugg's Pride Rainbow Disco Stripe Slide
Ugg and the Pacific Pride Foundation are back with their 'Proud Prom' campaign. The Disco Stripe Slide comes in the colours of the Pride rainbow or in the pink, blue and white of the transgender flag.
Andrea O'Donnell, Ugg President said "We wanted to express that there is beauty in what makes you different and that you should never feel the need to apologise for who you are or who you love."
Mattel's UNO Play with Pride edition
The classic card game gets a Pride makeover with special rainbow coloured cards that celebrates the LGBTQ+ community. Mattel has partnered with the It Gets Better Project and will be donating $50,000 to them.
It Gets Better Project seeks to inspire people across the globe to share their stories and remind the next generation of LGBTQ+ youth of their worthiness and power.
Dr.Martens' 1461 for Pride Smooth Leather Oxford Shoes
Dr.Martens are keeping it simple for Pride 2021, giving its classic 1461 oxford a rainbow flag on the heel tab and a rainbow heel-loop. You can even get them with rainbow laces and athletic socks with rainbow stripes.
The company said in a statement, "At Dr. Martens, we know our many diverse wearers have got us to where we are today, that's why we celebrate individuality and diversity in all forms." Dr. Martens will also be donating $100,000 to The Trevor Project.
As you can see from these examples, there are ways to support Pride beyond the essential financial support. There is also a direct benefit for the community when brands are loud about their support for Pride. We hope that reading this blog has made you think about how your company can support Pride Month 2021.