26 Apr 2022
EU wants staff to work from home in grand plan to slash use of Russian oil and gas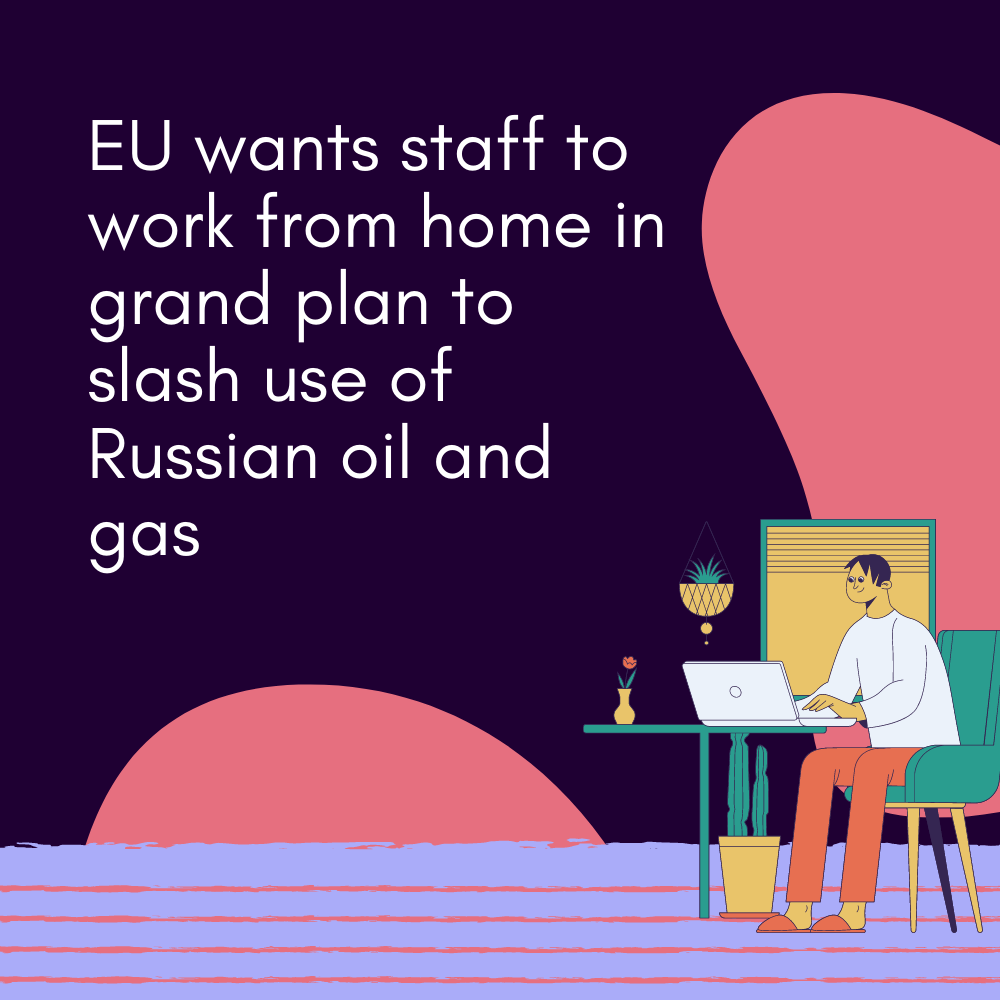 EU chiefs want employees to work from home at least three days a week to reduce the consumption of imported Russian oil and gas. The money Moscow makes from its exports is helping to fund Putin's war in Ukraine.
The EU imports 90% of the natural gas used to generate electricity, heat homes and supply industry, with Russia supplying almost 40%of EU gas and a quarter of its oil. The EU cannot find alternative supplies at the moment, so it wants citizens to adjust their lifestyles.
The nine-point plan called 'Playing My Part', drawn up with the International Energy Agency (IEA), asks workers to avoid commuting and drive more slowly to use less fuel.
The plan calls on citizens to:
Working from home at least three days a week
Heat their homes less in winter, and turn the air conditioning down in summer
Drive more slowly on highways, with the car air conditioning turned down, which uses less fuel
Use the train instead of flying
Travel by public transport, walk, or cycle
It also calls on cities to promote car-free Sundays, as some already do
It is estimated the range of measures would save a typical household £375 a year. The IEA calculates that if every citizen followed the plan, it could save 220 million barrels of oil and 17 billion cubic metres of gas a year.
Faith Birol, from the IEA, said the aim was to "reduce the flow of money to Russia's military and help put us on a path to a cleaner and more sustainable planet."
In march, the EU announced a plan to become independent from Russian energy imports by 2030.
It has also been recommended that citizens invest in home insulation, smart digital thermostats, and digital cars, which can all help to reduce fossil fuel use.
Separately, the UK announced it was tightening sanctions on non-energy goods from Russia, including a ban on caviar, silver and wood products.
International Trade Secretary, Anne-Marie Trevelyan, said the UK was taking every opportunity to "ratchet the pressure to isolate the Russian economy. These further measures will tighten the screws, shutting down lucrative avenues of funding for Putin's war machine."