Why your company should remain hybrid / work from home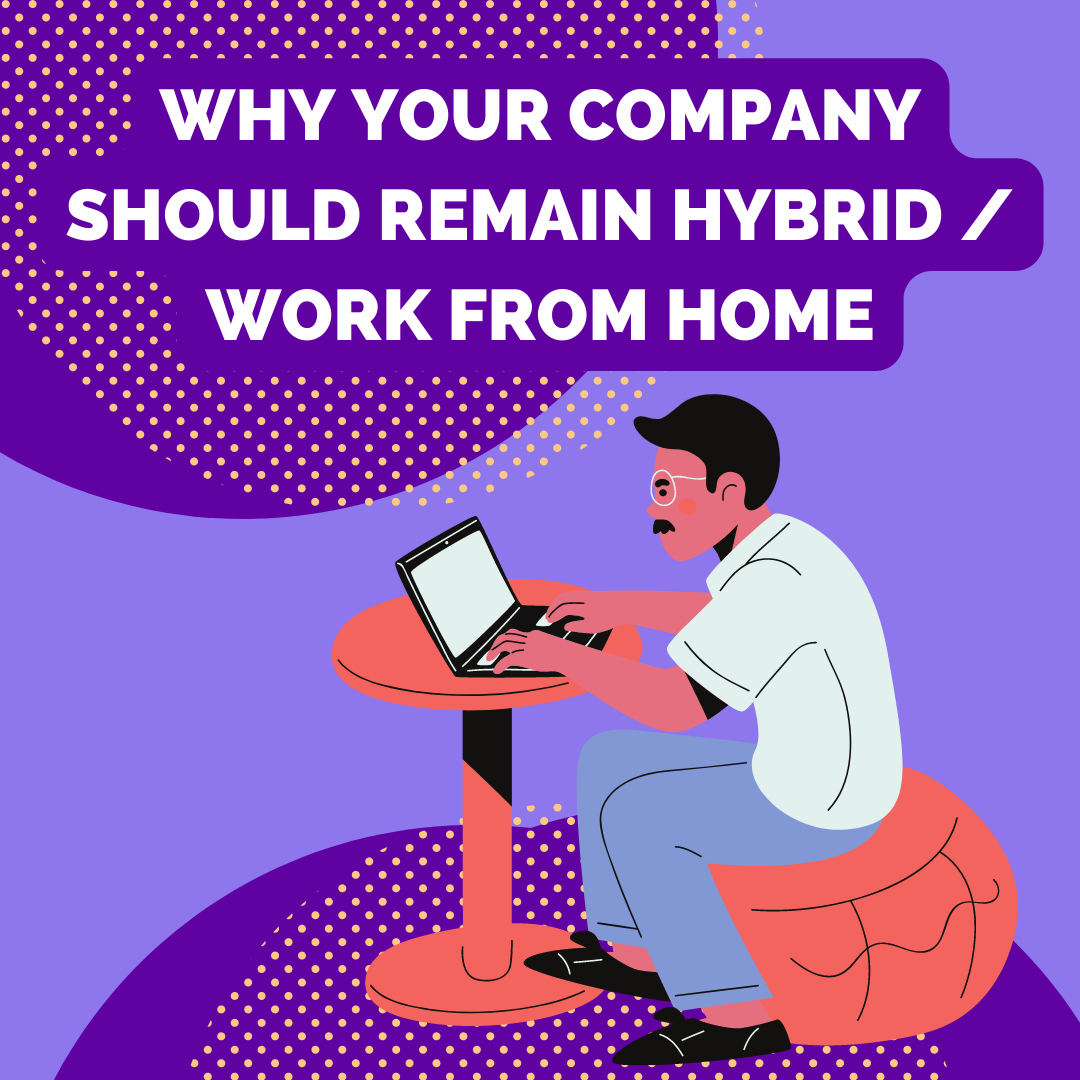 Working from home and hybrid work has become a norm within the workplace. The global pandemic forced us to adapt new norms and trial different approaches to a work-life. Now that the pandemic has subsided we have been left with new norms and expectations. With so many having experienced WFH and hybrid work it's been difficult to see the benefits of returning to work in the office. Having said that, a vast amount of companies are now considering a full time return to the office.
We would like to discuss why it is important to keep working from home and hybrid work a normality in the workplace. We will run you through some advantages and disadvantages of working from home / hybrid work and why it is so important to keep these options a reality.
Some advantages of working from home and hybrid work include:
Improved work-life balance- Work-life balance is crucial to keep employees satisfied within their job role. To create and keep a healthy work environment, keep current employees and entice new talents you should consider providing the option of working from home / hybrid working.
Freedom to choose when and where to work - Key to happier and thus more productive employees is allowing your employees to make changes to their work days. This would provide the option of working from anywhere in the world which current and potential employees could find appealing.
Less burnout or fatigue- By offering a healthy and balanced work life, you will ensure that your employees are less stressed and less likely to experience burnout. It is important to look after your employees as they are the key to your company's success.
Higher productivity- Working from home increases productivity. 77% of remote workers have reported that they are more productive while working from home. While working from home, employees feel less distracted by loud environment and less interrupted by meetings.
Some disadvantages of working from home:
Less access to work resources and equipment- It is difficult to adapt to having limited access to the equipment available in the office. Most workplaces provide laptops for their employees but if you need other equipment for your daily tasks, you might find working from home a little more difficult.
Feel less connected to the work culture - It can feel a little isolating when it comes to working from home full time. This is why it is important to support your employees and provide opportunities to connect with their colleagues.
Decreased team collaboration - It can become more difficult to implement team working tasks while working from home. This could also limit employees connecting with each other.
More difficult to coordinate work schedules, tasks and timelines - It can become a bit more difficult to delegate tasks and create work schedules. This is why organisation becomes key when working from home.
Although there are a few downsides to working from home, these mainly apply to employees who work from home full time. Hybrid work reaps the rewards of working from home while meeting little to none of the negatives. We hope that these have provided some clarity on the importance of providing your employees with the option to choose if they would like to work hybrid or even work from home.