24 May 2021
Business Growth Strategies To Increase The Success Of Your Business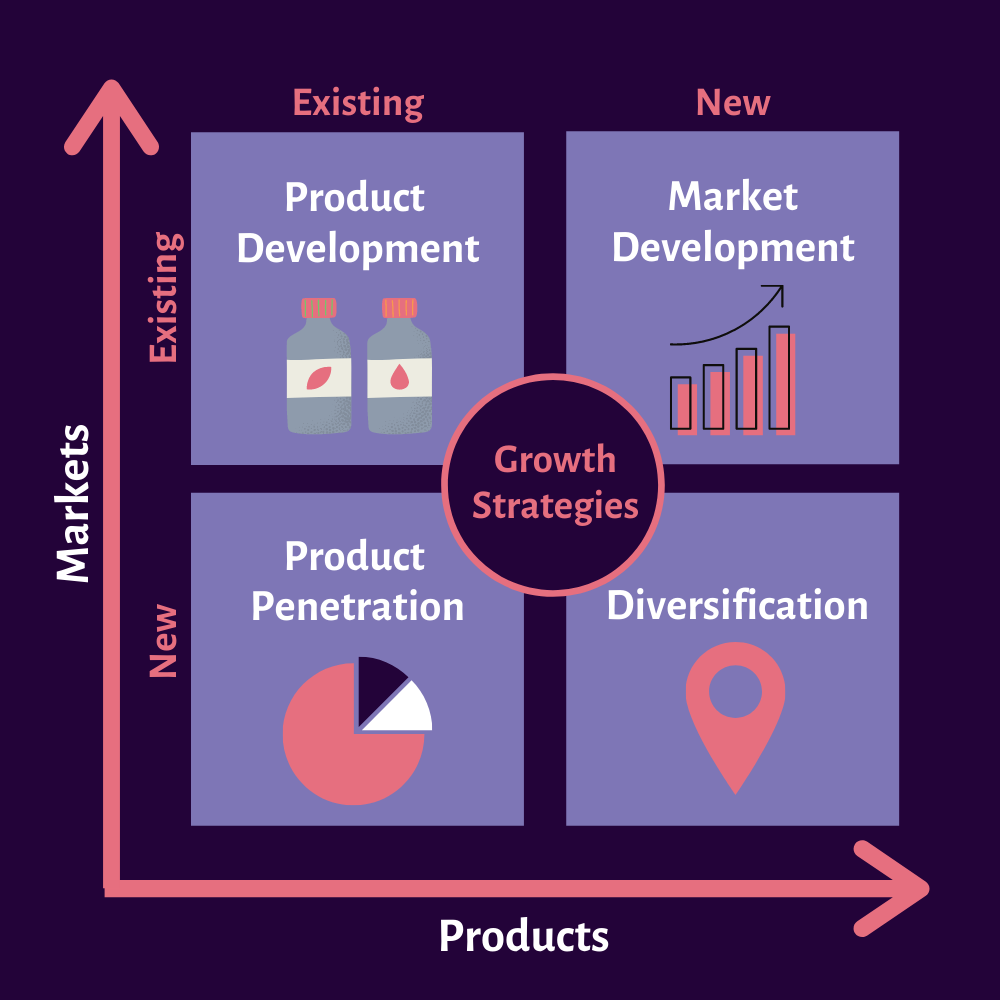 The UK is slowly easing lockdown restrictions through the government's roadmap, which means that many businesses reopened on May 17th. Some businesses have survived with the help from government assistance programs such as furlough. Even though these businesses are open again, they need to change their business models by rethinking about their growth strategies to adapt to the change in the economy.
A growth strategy is a plan of action that allows you to achieve a higher level of market share than you currently have. Examples of growth strategy goals include increasing market share and revenue, acquiring assets, and improving the organisation's products or services.
Here is an outline of the 4 typical types of growth strategies, you can use one or all of the following:
Product Development Strategy
Businesses can grow their market share by developing new products or modifying existing products for their consumers in that market to help create new business.
For example, Netflix started out as a DVD rental platform. Now, it is one of the most popular platforms on the market. Netflix's shift towards streaming media is a great example of evolving alongside market trends. After gaining a license for existing media, they started looking for new products to offer consumers and decided on producing original content shows.
A key point to take away here is that Netflix identified a need in the market and developed a product to address it.
Market Development Strategy
Businesses can develop new segments of the market, expand their user base, or expand their current users' usage of their product to help grow their market share. Essentially, this means targeting audiences that have not yet been reached or are not yet being served.
For example, leading footwear brands like Adidas, Nike and Reebox have entered international markets for expansion. These brands are perfect examples of market development because they continue to expand their brands across new global markets.
For SMEs, this strategy would mean expanding from a current market to another where its product does not currently compete.
Product Penetration Strategy
Market Penetration strategy allows a brand to take an existing product or service to an already thriving market with high demand. A business then begins drawing in a larger share of the entire market, eventually draining competitors of opportunity and money.
For example, Coca-Cola has been consistently ranked as the top soft drink brand worldwide, with a global brand value of over 71 billion U.S dollars. Other soft drink brands manufactured and sold by Coca-Cola include Diet Coke, Sprite, and Fanta. Due to the incredible strength of Coca-Cola's brand, the company has been able to utilise market penetration on an annual basis by creating an association between Coca-Cola and Christmas, such as through their Christmas advert, which helps to boost their sales during the festive period.
Theoretically, a brand wants to eliminate all competition, completely owning all the market share for a given product or service.
Diversification Strategy
Diversification strategy is when a product or service is completely new and is being introduced into an entirely new market.
Disney was once known just for Disney movies and theme parks like Disneyland and Disney World. The company diversified by purchasing other companies such as ESPN, ABC, Disney cruise lines, and Pixar just to name a few. Today, only 32% of Disney's profits come from movies and parks. Its most profitable growth comes from new products in new markets.
One thing to remember is that diversification is very risky and there is no guaranteed way to confirm the success of this strategy.