10 Nov 2021
9 Practical tips to Onboard Remote employees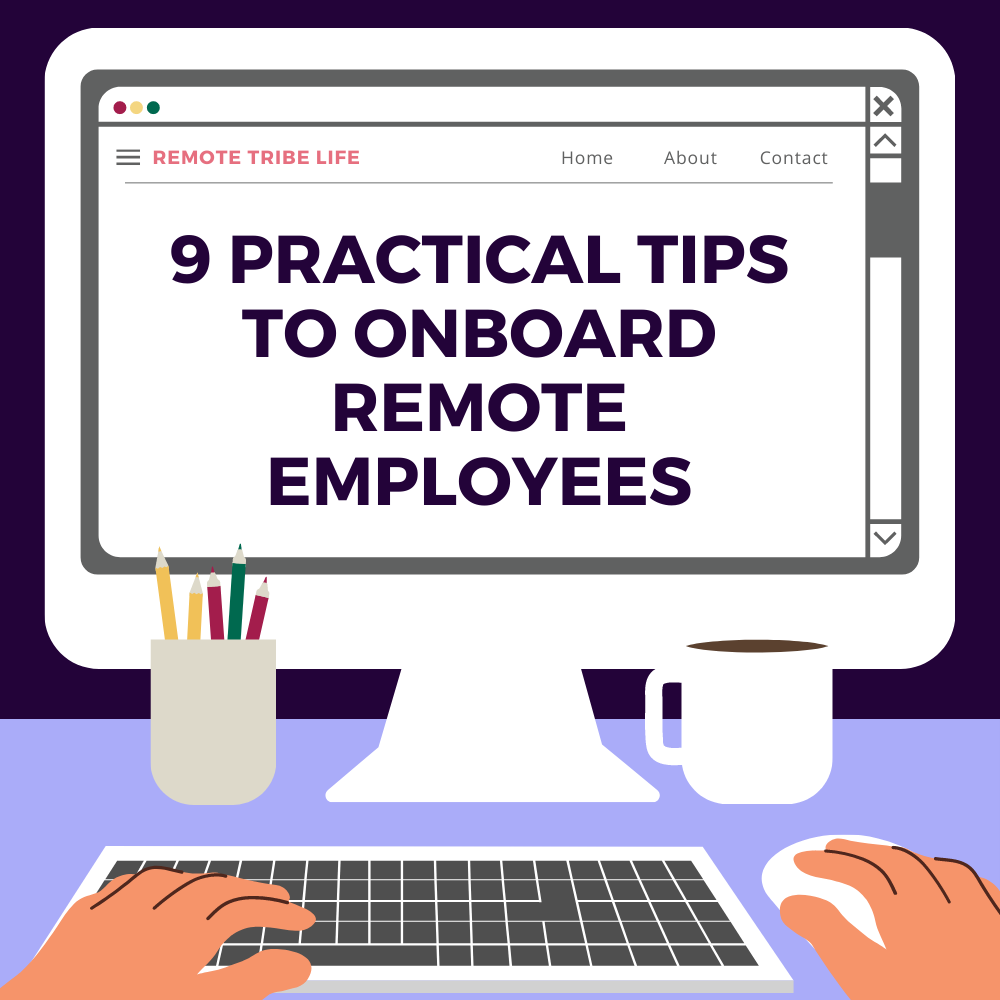 As remote working continues to be the new "normal" for many companies and their employees, remote onboarding has become a very important piece of the culture in most of the companies.
Employee onboarding statistics show that onboarding is essential for retaining the right talent. By properly conducting the onboarding process, the new employee can fit right in. They become a productive member of the team and easily integrate into the company's culture.
To do this successfully, the HR and management departments should implement proper onboarding strategies to ease new employees into their positions
According to a study, 69% of employees are more likely to stay with a company for three years if they experienced great onboarding . Another very interesting survey shows that retention rates rise 30% to 50% for companies with a great learning culture.
Here are nine great tips for any company to effectively onboard new recruits virtually.
Send new hires IT hardware(laptop, phone, etc) and book a call with the IT Team shortly
Ideally, your company and IT Team should have the computers and other hardware for the remote employees ready before they start with your venture.
Once sent, confirm with them they have received all necessary equipment for their work and make sure they have the email and phone number of the IT team to assist them with setup, if necessary.
Also, if they miss something in terms of IT equipment and they have to order themselves, make sure the guide mentions how they can expense them and what's the maximum value allowed.
Your IT Team should be responsive to new hires and should book calls with them as soon as they receive their equipment. Remote workers should get familiar with the -sharing applications and cloud backup software (like Google Drive, Dropbox, Carbonite)
Computer security is a very important aspect for a remote employee, especially because there is no office anymore and some are on the road all the time if they are digital nomads. Things like data encryption, logging in, using VPNs and the virtual desktops are just a few examples where your IT team should consider as must do.
Gift company branded gadgets for a warm welcome
Your new hires should feel like a part of the team as soon as possible. That's why a welcome package is a really nice way to make a good first impression as an employer and have the employee feel appreciated . Here are a few ideas for a welcome package:
Branded merchandise: a coffee mug, T-shirt, battery bank, etc

A welcome letter or note from their team or your CEO

Personalized gifts they're likely to enjoy (like headphones, a book or gift cards from local or online stores)
Make sure they have a support system from the first day of work - communication is key
New remote employees can easily feel isolated and like they don't really belong to a team.
Check in with them regularly if you are a line manager or have someone from HR make sure they are accommodating fine. The new remote employee should know where to turn for feedback or to ask any questions. Providing them with supporting materials is also very important to encourage them to collaborate with other team members and build the team spirit. Also, promoting virtual meetups, such as online coffee breaks will help them bond. Finally, assigning them with a mentor or creating a "buddy" system will have a positive effect on their morale and their performance as well.
Regular virtual team building and ice breakers online games work and can lift the morale of any remote employee. Be sure to organise some of these regularly so that your workforce have a feeling of belonging and can socialise with others even if online.
Provide an Individualised Onboarding Plan Including Setting Goals
New hires expect to have clear goals and the opportunity to have regular (online) meetings with their manager. Providing new employees with strong support during the onboarding process helps them feel more motivated and productive.
This requires a clear, bespoke plan detailing what is expected from the new employee in terms of performance goals during a certain period (first month, first quarter, etc).
Does your company have a platform where the employee and manager can input their goals for the quarter, half, year etc? If not, maybe you should consider one.
Remote workers should not wait until their manager is online to learn what their next tasks are. Make sure hiring managers develop and share a task calendar after new hires' training and onboarding sessions or even a small list of items (e.g. trello, monday.com, etc)
Weekly one-on-one meetings to discuss upcoming projects , progress and resolve potential issues are highly recommended.
Leverage Online Tools
Having good software tools are essential to keep companies working efficiently when having remote teams. Remote work and remote onboarding require the use of online tools, whether to manage the necessary forms and documents each new hire will have to complete or to communicate on the day-today. There are online tools for every department and to execute every type of tasks. Make sure your company's toolkit contains with best in class software to unlock productivity and continuity.
Get them up to speed on your company culture.
Remote employees are part of your culture, despite not being in the office. Company culture is probably even more important when not having a physical office.
In order for the employees to understand your company's culture and values, your should share an employee handbook in digital format or presentations on your company values from previous meetings.
Send new joiners information about the company culture and projects they will be working on before their start date. This will give them the opportunity to analyse the information and feel more prepared on day one.
Set up meetings with their team members and other key employees.
These meetings could be one-on-one and/or group calls. During their first days, remote employees should meet with their co-workers, their manager and direct reports as well as employees from other departments they'll work closely with.
Arrange role-specific training.
This can be one challenging task to train remote employees, as virtual communication is very different from in person where you have other signs like body language and face to face connection.
However, there are ways to effectively remote workers:
You can use interactive training courses that are user-friendly and include games and quizzes to boost engagement. Another alternative is to record product demos to better explain features through video. You want to make these sessions fun and interactive so everyone enjoys them.
Arrange an in-person meeting if possible
If your new hire is based in the same city or country, consider having them work from your offices during their first week. If that's not feasible, invite them to a monthly meeting in the city where your office is as soon as possible, so that they get to know co-workers from that area in-person.
If you have distributed teams all over the world and all employees work from home or travel, make sure to schedule quarterly or annual events or retreats, where entire teams get the chance to meet and build up the culture.