17 Oct 2021
10 top tips to get your property 'Fit for Winter'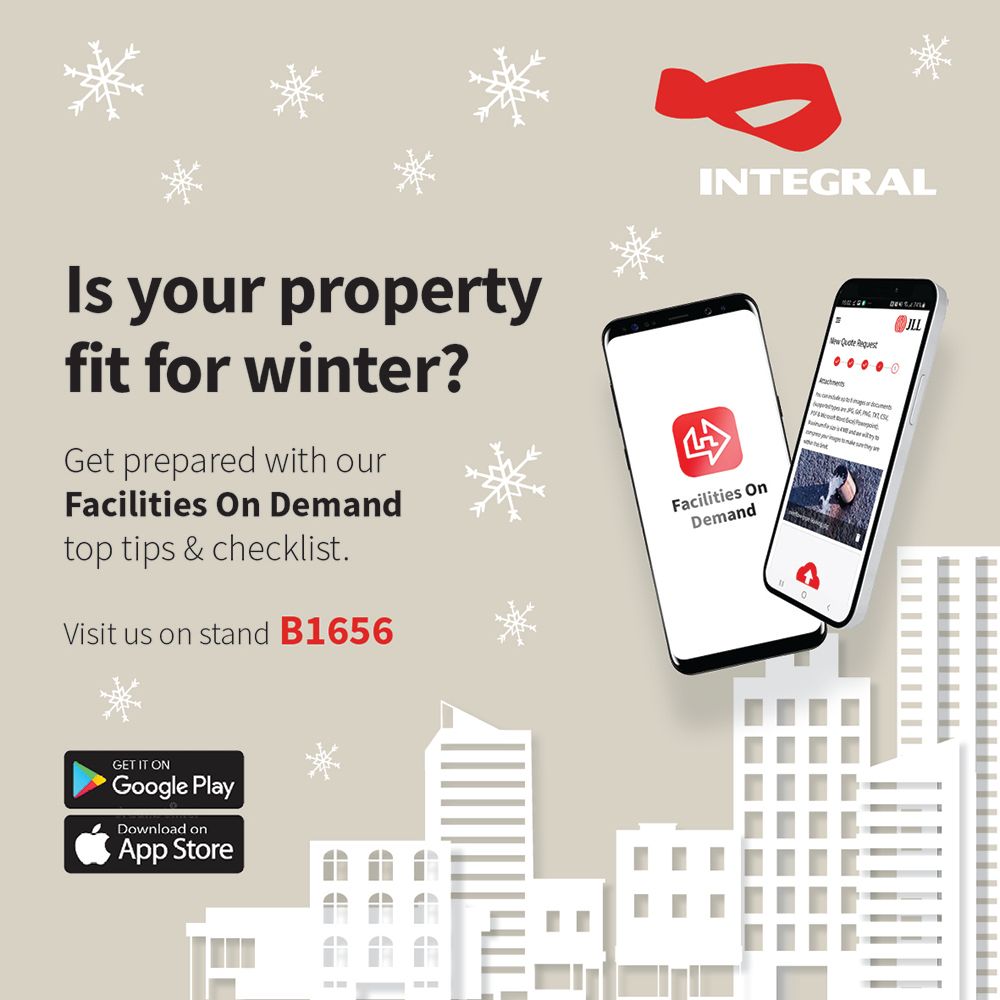 There are several things you can do now to prepare & protect your business from the winter weather. Whether it's strong winds, heavy rain or extreme cold and snow, you can proactively reduce risks and help lessen the potential of expensive problems that could impact your business and your customers. Find out more from Integral's Facilities On Demand 'Fit for Winter' checklist.
Facilities On Demand - Building services at your fingertips
The best people, wherever and whenever you need them? It's like having your own team on standby. Tap the app for facilities management made easy.
Find us on Stand B1656
Integral's 'Fit for Winter' checklist
1. Know what to do in a power cut
It's now simple to get in touch with your Electricity Distribution Network Operator - just dial 105.
2. Secure external fixtures/assets
When high winds are forecast, remember that some everyday items in your property can become 'missiles'. Most winters we see pictures of airborne signage, furniture, Refrigeration/HVAC housing unit panels etc. When was the last time you had a maintenance check on your building signage, are your signage fixing and batons secure and free from any rot?
3. Check your roof
Before it gets windy it's also worth checking for loose tiles, slates and flashing and consider removing dead branches from old trees.
4. Clear your guttering
As leaves start to fall, there's a risk that wind will blow leaves into your gutters and drainpipes will get filled up. If this builds up, the water will go back into the guttering and leak through the roof - potentially into your electrics - and could stop you trading.
5. Trim up
To avoid a build-up of leaves in the guttering, the best thing to do is to prune your trees before winter really kicks in. This can also help with avoiding snow building up on the trees, which with it brings the risk of damage from broken branches.
6. Don't leave yourself open to frozen and burst pipes
It's important to make sure water pipes and water tanks in the loft are insulated with good quality lagging. This will not only protect from freezing but it will help insulate your hot water system and save your money.
7. Check your flood risk
Check if your building is at risk of flooding, and sign up for free flood warnings at:
The Environment Agency, NI Direct, Scottish Environment Protection Agency (SEPA), Natural Resources Wales (NRW) and local authorities share responsibility for providing advice and information to the public during flood emergencies and can be contacted 24 hours a day via a dedicated Floodline number.
Floodline (England, Scotland and Wales): 0345 988 1188
Northern Ireland flooding incident line: 0300 2000 100
8. Carparks & walkways
Do you have a plan to ensure your carparks are safe from icing & slipping hazard?
9. Lightning protection
Have you had your lightning protection checked? Lightning protection systems are used to prevent or lessen lightning strike damage to buildings. They protect the internal electrical components of a building, helping to prevent fires or electrocution.
10. Visit our website and register with Facilities On Demand
With over 170 building service tasks to choose from, why not add our "Facilities On Demand" service to your "Business Continuity Plan"? Because, even when all precautions have been taken – damages and failure can still occur and impact your business. This convenient pay as you go maintenance service gives you easy access to multi-skilled engineers, 7 days a week, 365 days a year...and a digital platform to manage all your planned maintenance. If the worst should happen, just tap the app. It's facilities management made easy.
Facilities On Demand
Flexible,
PAYG no upfront cost or monthly annual / fees
Includes a platform, to manage your maintenance and certificates.
24/7 helpdesk
Access to qualified engineers
Access to pre-vetted Supply Chain Partners
If you would like to find out more, then visit our website, or contact the FOD team FODenquiries@integral.co.uk Click here https://lnkd.in/dv795FfC to see how simple it is to log a job request.